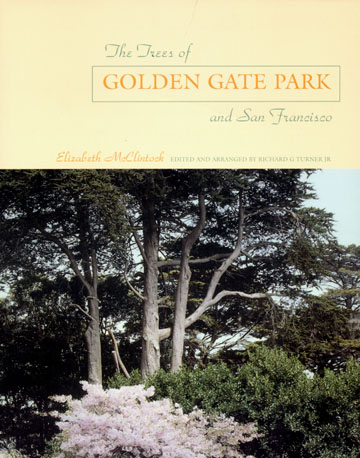 Phone Blitz for Golden Gate Park
April 20, 2004
As the lawsuits to stop the underground garage in Golden Gate Park await their hearing dates, destruction has already begun. The Music Concourse Community Partnership promised, however, that they would not do any irreversible damage before the hearings.
They did not keep this promise. They cut down numerous mature cherry trees, which cannot be replaced anytime soon. These cherry trees are such a signature species of Golden Gate Park that one is featured on the cover of the definitive book, The Trees of Golden Gate Park and San Francisco.
We are concerned that the pedestrian tunnels are next on the list. They were built to a standard of craftsworkship that doesn't exist today, from stones quarried in San Francisco. They are historic and irreplaceable.
This web page has photos of the tunnels as they are, and also of the type of charmless painted concrete block tunnel that they would mostly likely be replaced with:
http://www.indybay.org/news/2004/04/1677405.php
We don't want any more irreplaceable damage done before the court dates. We want them to keep their promise. You can help:
Call the Mayor's office TODAY (phone number below) and tell him you don't want the pedestrian tunnels or mature trees destroyed, or any other damage done that can't be undone, before this is resolved in the courts.
Call your City Supervisor TODAY (phone numbers below) with the same message. (If you're not sure who your Supervisor is, go to http://www.sfgov.org/ and enter your address in the "My Neighborhood" field.)
It'll just take a few minutes. It's a phone blitz. Call today, so they know we're paying attention. Call today, it's fun and easy. Call today, I'm starting to sound like a radio announcer. Call today, and tomorrow we we can enjoy our park's beautiful and historic treasures.
Phone Numbers
Mayor
Gavin Newsom <gavin.newsom@sfgov.org>
415/554-6141

Supervisor, District 1
Jake McGoldrick <Jake.McGoldrick@sfgov.org>
415/554-7410

Supervisor, District 2
Michela Alioto-Pier <Michela.Alioto-Pier@sfgov.org>
415/554-7752

Supervisor, District 3
Aaron Peskin <Aaron.Peskin@sfgov.org>
415/554-7450

Supervisor, District 4
Fiona Ma <Fiona.Ma@sfgov.org>
415/554-7460

Supervisor, District 5
Matt Gonzalez <Matt.Gonzalez@sfgov.org>
415/554-7630

Supervisor, District 6
Chris Daly <Chris.Daly@sfgov.org>
415/554-7970

Supervisor, District 7
Tony Hall <Tony.Hall@sfgov.org>
415/554-6516

Supervisor, District 8
Bevan Dufty <Bevan.Dufty@sfgov.org>
415/554-6968

Supervisor, District 9
Tom Ammiano <Tom.Ammiano@sfgov.org>
415/554-5144

Supervisor, District 10
Sophie Maxwell <Sophie.Maxwell@sfgov.org>
415/554-7670

Supervisor, District 11
Gerardo Sandoval <Gerardo.Sandoval@sfgov.org>
415/554-6975
Websites to Peruse
Alliance for Golden Gate Park info:
http://www.sfpix.com/
Trees Not Cars:
http://www.scorcher.org/tnc/